Slag Inclusion
A weld defect where slag is entrapped in the weld metal before it can float to the surface.
Related Links
Weld Defect #3 ? Slag inclusion | AXIS Inspection Group Ltd.
Slag inclusion – Causes and Remedies
Defects / Imperfections in Welds – Slag Inclusions – TWI
slag-inclusion – TechMiny
What is Welding Defects – Types, Causes and Remedies? – The Welding Master
Related Videos
How To Fix Porosity & Defects In Your Welds; The Right Way!
Stick Weld Trouble-Shooting: Common Problems & Solutions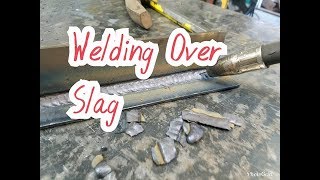 Welding Over Slag
How To Fix Porosity & Defects In Your Welds; The Right Way!

Stick Weld Trouble-Shooting: Common Problems & Solutions